On December 30, 2020 I turned in my manuscript of Church in Transit to
Judson Press
. I do not know what the final title and subtitle will be, but I hope it will be something like, Church in Transit: Seeking Renewal and Social Justice in Your Neighborhood or Church in Transit: Moving toward Renewal and Social Justice. The premise of the book is to get pastors, church leaders, and engaged lay leaders out of the church building and into the community via walking, bicycling and taking public transit.
As I finished the manuscript I was amazed at the pile of books I thought for sure I would use, but never did. Now that my early mornings and late afternoons are not devoted to writing and editing I am finishing some of these books. I thought I would share with you some of the volumes that did not make it in the book, but are pertinent to understanding the promise of city-neighborhood churches.
The first such title is Building the Cycling City: The Dutch Blueprint for Urban Vitality by Melissa and Chris Bruntlett, published by Island Press. I would also suggest you spend a half hour or so looking at the Island Press catalog of titles too.
Melissa and Chris are co-founders of
Modacity
, I would describe them as multi-modal whisperers, a normal (seemingly) family of four who share and advocate how to live car-free in Delft, Netherlands. By doing so, they show all of us how cities can move from car-centric to human-centric. Although not addressed in their book, but you and I know that one of the original human-centric city institutions was the Church.
In Building the Cycling City you will not find great ideas to try out in your church, in fact churches are rarely ever mentioned, that not what this book is about. Nevertheless, I invite you to read this book with the underlying question: who are the streets for where my church or house or apartment is located? Without giving any thought you will say they are for cars silly.
But what if they were for people first and cars last? This book will show what that could look like. Read this book as a thought experiment, as a way to expand your thinking about what is possible in your city (and in your church). You will find small ideas that make huge impacts and big ideas that make gigantic impacts. Too many times pastors and church leaders accept the way things are without ever challenging the paradigm, without ever dreaming of how things could be. Sometimes we need to look beyond our discipline as a way to refresh our imagination. I think this book is an excellent way to do just that.
Treat yourself to 15 minutes and 35 seconds to see what I'm talking about. View this short film about the World's Cycling City: Gronigen, Netherlands.
Groningen: The World's Cycling City from STREETFILMS on Vimeo.
Isn't that amazing! Keep on watching other Streetflims offerings, read this book, and start dreaming of a more human-centric church...
The second book on the subject of streets is Right of Way: Race, Class, and the Silent Epidemic of Pedestrian Deaths in America by Angie Schmitt (another Island Press book).
Reading this book was like reading all of the parables of Jesus in real time: people dying on the road and lawmakers largely ignoring suffering and deaths.
Like the other book, you will not gain any fantastic sermon illustrations, but you will start to ask in your mind who are the roads for? What if our neighborhoods were more human-centric than car-centric? But if you read this book in one hand and in the other highlighted all of the mentions of roads and walking in the Bible you would see the two converge.
Be honest, Have you ever walked from your living space to your church? (those who live in parsonages next door you do not have to answer. speaking of which, one parsonage in Hinton, WV has a tunnel from the parsonage to the church, no foolin'). Have you noticed and talked with those who walk your streets? Not just those walking their dogs, but those walking to work or back from the grocery store. What are the bus stops like in your neighborhood? Are they lighted? Heated? How long are the walking lights at the crosswalks in your neighborhood?
How familiar are you with
Vision Zero
? Has your church ever talked about Vision Zero goals for your neighborhood? Or, maybe you're like me and never heard of Vision Zero until l read this book. So what is Vision Zero?
Vision Zero is a strategy to eliminate all traffic fatalities and severe injuries, while increasing safe, healthy, equitable mobility for all. First implemented in Sweden in the 1990s, Vision Zero has proved successful across Europe — and now it's gaining momentum in major American cities.
Now to stretch your vision a little more...imagine the streets in the neighborhood of your church where the hierarchy looked like this: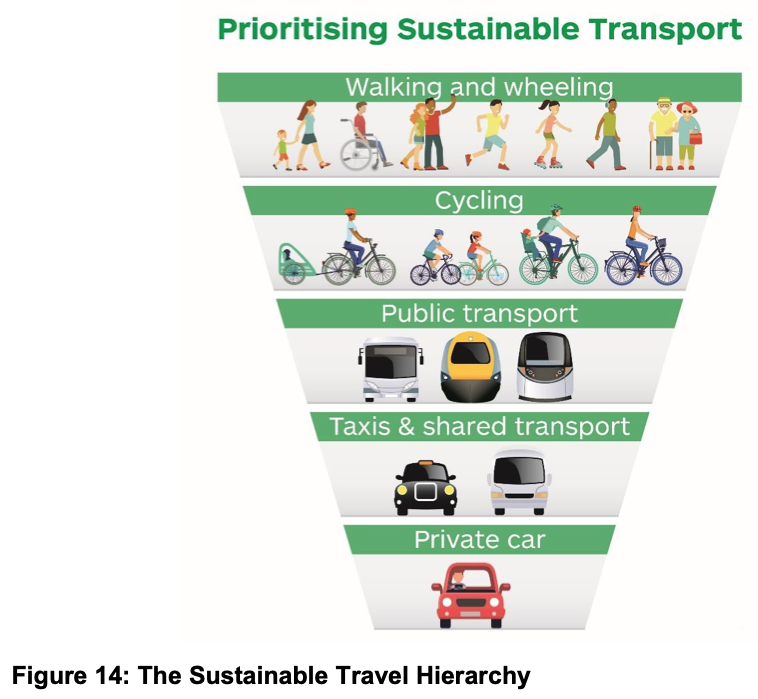 or like this:
or like this:
How would adopting this hierarchy change your church? Your ministry? Your view of the neighborhood?