Last week US President Joe Biden met with the UK Prime Minister Boris Johnson. As part of the meeting there was the exchange of symbolic diplomatic gifts. Johnson gave Biden a high resolution photo of a mural of Frederick Douglas in Edinburgh, Scotland (which will hang in the Oval Office in the near future); Biden gave Johnson a bicycle.
The bike has been called the #
BorisBike
. It was made by the Philadelphia bicycle maker
Bilkeny Cycle Works.
I would have loved for the bike to have fenders, a chain guard, a rear rack and a front rack designed to hold either a pizza or an overpriced 4-pack of artisan beer. Nevertheless I love this bike. I would ride it in a heartbeat, in fact I am using this bike as the prototype for the rebuild of my commuter bike.
Much has been made about President Biden's love of trains, thus the moniker "Amtrak Joe." And if his administration is able to move forward on
Amtrak investments and improvements
then our goal of becoming less car and plane dependent will take giant leaps forward.
But the gift of a bicycle to Johnson has me thinking, maybe he could also be called Bicycle Joe! Biden could've easily given Johnson one of those monster electric F150s. He could have channeled Oprah and jubilantly screamed to the British diplomats: You get a car, and you get a car, and you get a car.
But he didn't, he gave Johnson a practical and lovely commuter bike!
This for me, is a big deal. It shifts the culture around bicycling from recreational riding to transit/fun-centered riding. Think of the difference between Biden's form of cycling and former Secretary of State John Kerry's form of cycling.
Kerry is a real spinner, he's a lycra-dude
(for the record, so am I on long rides). Kerry's love of cycling is different than Joe's love of cycling.
Contrast that with Biden's love of cycling. To celebrate First Lady Jill Biden's 70th birthday (which was also
World Bicycling Day
), Joe and Jill went for a bike ride along a Delaware beach. A fun bike ride, which looks like at
#partypace
(
thanks Russ for that term
).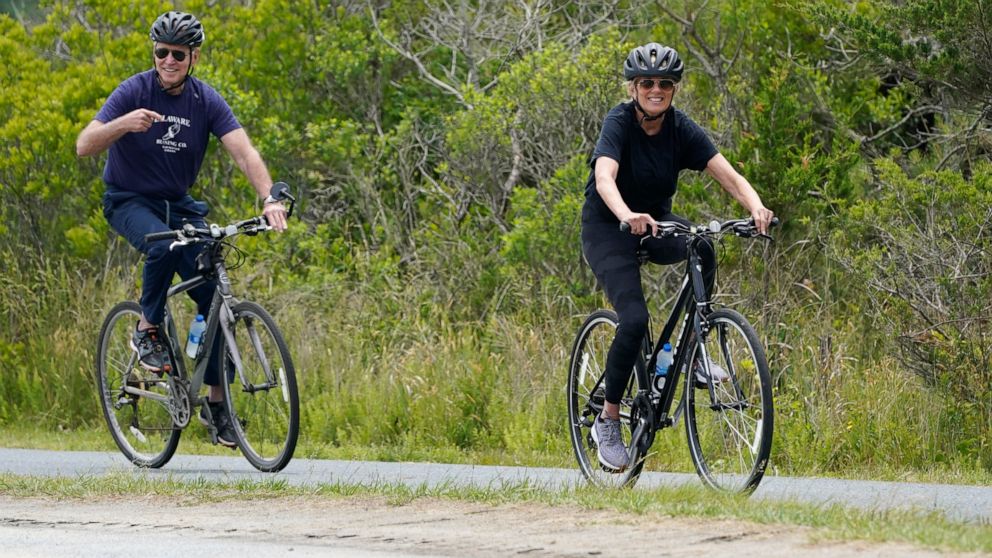 (photo credit: AP Photo Susan Walsh)
And just look at those wonderful smiles on their faces!
I am hoping we see more pictures like the one above this summer. I can't wait to see pictures of Bicycle Nomad's Juneteenth rides in Delaware from this weekend. I can't wait to see pictures of the All Black Juneteenth ride here in the Twin Cities. I can't wait to see picture of kids biking around the city. I can't wait to see more and more people biking to the store, the post office, worship, and work with those Bicycle Joe and Jill smiles on their faces.